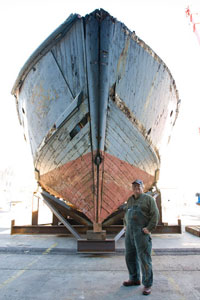 Real World Science participants didn't get to see the PT-305 under renovation this summer, because it was off-limits during construction of a new cradle. Now, all teachers will have access to a behind-the-scenes look at this modern take on the historic WWII boat!
The renovation of the PT-305 boat, a torpedo boat with a hull of mahogany, and three big packard engines, is nearing completion.
The Museum is having a free webinar for students this Wednesday, October 8, 2015. You can watch it live at 12pm Central, or watch the video anytime afterward. To do either you need to register. We'll be talking about what it has taken to renovate the boat, and the role of Higgins boats in getting troops and equipment and supplies ashore in WWII. Two of the volunteers who've led the efforts on the boat will be with us, as will a veteran who drove boats during the war. At the end we'll pose a design challenge for students to make a pontoon section. Pontoons were used to make ferries and bridges and harbors during WWII. There will be awards for the best designs.
Register here: http://www.nationalww2museum.org/learn/education/for-teachers/distance-learning/free-webinars.html